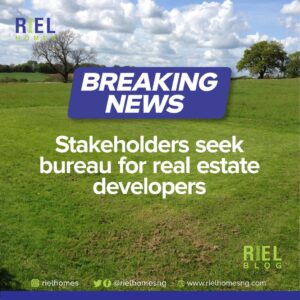 (BREAKING) Stakeholders seek bureau for real estate developers | Rielhomes
The attention of the Federal government of nigeria has been drawn by the a burueau of real estate developers which requested for data that could be used to determine the technical competency and experience of professionals in the industry.
The above stakeholders consisiting of Bureau of Real Estate Developers all met at a two-day hybrid 5th Housing and Finance Summit Organised by NSIH Housing limited in Abuja, which aim is to focus on "Maximising Impact of Pension for Equity on Affordable Housing Delivery " & "Leverage Digital Banking for Cooperative Housing Finance".
The agreed price between Participants on affordable housing should be between N5 million to N15million – for shelter seekers, while authentic data will be needed to facililate affordable housing through designs suitable for the level of income. In Addition, They expressed the need for architects and other professionals to design housing that are not horizontal but vertical to gain the advantage of space and affordability, as well as the need for standardisation of designs and materials and enforcement of specifications for buildings.
The participants also harped on need to pay attention to green funding, non-Interest financing such as Sukuk and use of Real Estate Trusts (REITS), as well as need to re-define and to re-design houses to be tailored towards affordability. They observed that Nigeria's Pension fund asset was about N14.42 trillion with about 9.7 million contributors – collaboration is needed to use the Pension Fund for the housing fund. Pension fund is likely the fund that can deliver affordable housing in Africa as it has done in other climes.