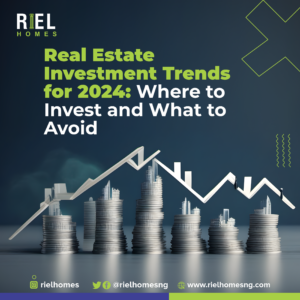 Real Estate Trends for 2024: Where to Invest and Where to Avoid || RielHomes
Ready to make the right moves in Nigeria's dynamic real estate landscape for 2024? 🚀 Discover the trends that will define the market, and ensure your investments are on the right track. 💼
1. Metropolis Magic: 🌆
Nigeria's urban hubs remain key areas for investment. Think Lagos, Abuja, and Port Harcourt. 🏙️ Pro tip: Seek neighborhoods with growth potential and access to essential amenities.
2. Rising Stars: 🌟
Emerging cities like Ibadan, Enugu, and Uyo are gaining attention. Lower entry costs and growth prospects are attractive. 📈
Pro tip: Invest in areas with improving infrastructure and economic development.
3. Sustainable Living: 🌿
Green living is in! Sustainable and energy-efficient homes are on the rise. ♻️
Pro tip: Incorporate eco-friendly features to increase property value.
4. Tech and Modern Living: 📱
Smart homes are becoming the standard. Embrace automation and smart security for higher market appeal. 🏡
Pro tip: Make technology work for your property.
5. Work from Anywhere: 💼
The remote work revolution continues. Consider homes that offer flexibility and home office spaces. 🏠
Pro tip: Design functional workspaces within your properties.
6. Be Cautious of Market Bubbles: 💥
Some areas may be overvalued. Avoid potential bubbles by researching market trends thoroughly. 💡
Pro tip: Consult local experts for insights.
7. Climate Resilience: 🌦️
Nigeria's climate challenges are real. Avoid flood-prone and disaster-prone regions. Seek climate-resilient properties. 🌪️
Pro tip: Prioritize safety and resilience.
8. Affordable Housing: 💰
Affordability is a top concern. Explore opportunities in the affordable housing segment. 🏘️
Pro tip: Balance your portfolio with budget-friendly options.
9. Regulatory Awareness: 📜
Keep an eye on changing regulations. Compliance is crucial. 📊
Pro tip: Stay informed about legal developments.
10. Diversify Wisely: 🌍
Spread your investments across property types and locations to manage risk. 🌐
Pro tip: Evaluate each opportunity carefully.
The Nigerian real estate market is set for exciting developments in 2024. Stay informed, be adaptable, and use data-driven insights to shape your investment strategies. The future of real estate awaits your smart moves! 🏠🚀 #RealEstateTrends #NigeriaInvestment #PropertyMarket2024