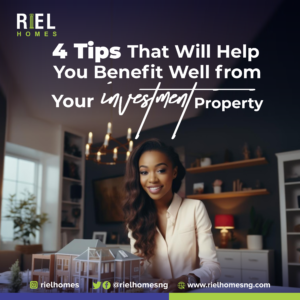 4 Tips That Will Help You Benefit Well From Your Investment Property | Rielhomes
If you are reading this, then it means that you are either  an investor or just starting out. But for the benefit of newbies who might be reading this to have an idea of what investment property is, we'd take a quick introduction so that everyone can be on the same page.
An investment property is a piece of real estate that has been bought with the goal of making a profit. Whether through future sales, rental revenue, or both, this type of property is meant to generate profit. And it can be owned by a single person, a group of investors, or a corporation.
Investing in a property is an exciting and lucrative venture. Whether you're a seasoned investor or just starting out, it's important to make the most of your investment property, after all the goal is to profit. So in this blog post, we share four tips that will help you maximize the financial benefits of your investment property to the fullest. We also discuss the importance of investing in a property that sells well and how it can significantly impact your real estate investment journey. Follow closely.
1. Buy property in the right environment.
Now, this is really important. You should think about the environment before purchasing an investment property. Your investment home will be successful if you buy in a popular area with high rental yields, not the other way around. You should also watch out for the proximity of the property to important services like stores, cafes, public transportation, and schools. A family who wants to buy a residential property might prefer somewhere close to a standard school, where their kids could get quality education. Same applies to stores, laundry services and other necessities.
In case, all of these are missing, be sure to examine the developments taking place in the environment. It's fine if the property is not close to the services mentioned above, however check if there is hope for any in the near future. Even though these elements might not yet exist, if they are constructed, they might ultimately matter.

2. Understand Your Target Market
Consider your target audience before starting any property modifications or renovations. If your investment is a one-bedroom apartment in a serene environment, you'd probably want to find a single working professional, a student, or a young couple without kids. If your home has four bedrooms, a large backyard, and is close to a park or the beach, you may want to concentrate on luring families with kids and pets.
After, you can base any modifications or design decisions on who your property would be ideal for once you've determined who would benefit from it most.
3. Stay on Top of Maintenance and Upgrades
To truly profit from your investment property, it's essential to keep it in excellent condition. Regular maintenance and timely upgrades retain the property's value for future appreciation. Schedule routine inspections, address any repairs promptly, and consider periodic upgrades to increase the property's appeal and functionality. This may include renovating the kitchen, upgrading bathroom fixtures, or installing energy-efficient features. By doing so, you'll ensure your investment remains attractive and comfortable for your own use while also attracting higher-quality tenants or potential buyers.
4. Emphasize On The Property's Sale Point.
What do we mean by this? The sale points are those specific features that attracts potential buyers to your property. It could be the serenity of the environment where the property is located, or the proximity of the property to significant places. Those points, emphasize more on it to draw the attention of the perfect buyer.
Here is how it works.
Spend more money on amplifying the areas that really draw attention, so you know it's at its full potential. For instance, if your outdoor space is perfectly suited for entertaining, make sure you spend money on the garden and nearby features so it isn't just half done. By so doing, it will be able to attract buyers who naturally have interest in a stunning outdoor space.
To wrap up,
Remember that your ability to build wealth and enjoy financial freedom might be dramatically impacted by the successful sale of an investment property. When it comes to investment properties, the ultimate goal is to generate a return on your investment. Whether you plan to rent out the property or sell it in the future, an investment property that sells well is crucial for maximizing your profits and achieving your financial goals. So treat it well if you want it to treat you well in return.
If you have any further questions or would like to discuss investment opportunities, We'd be more than happy to assist. Wishing you all the best in your investment journey!