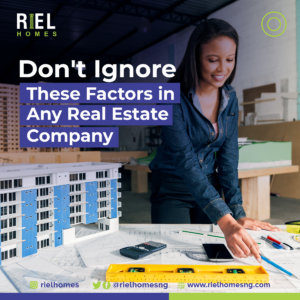 Don't Ignore These Factors In Any Real Estate Company | RielHomes
We all know that real estate companies and agents are all over the internet. However, choosing the appropriate company to partner with is the most critical thing. Whether you are wanting to buy, sell, or invest in real estate, aligning yourself with a trustworthy and professional real estate company is essential. That is why in this blog post, we explore the key factors to consider when selecting a real estate company that will meet your needs and exceed your expectations.
Foremost, the reputation and market experience of a real estate company are two of the most crucial factors to take into account. Look for companies with a solid reputation in the sector, a history of success, and gratifying consumer feedback. A company with expertise will have a thorough awareness of the market dynamics, allowing them to offer insightful advice and support throughout the whole transaction process. And by experience, we mean success records, not the number of years in existence.
Investing in Vacation Rental Properties – Tips for Success | Riel Homes
The second thing you should check in the real estate company is their services. Think about the variety of services the real estate company provides. A trustworthy company ought to provide a full range of services to meet all of your real estate requirements.
The company should be your one-stop shop for all things pertaining to real estate, from purchasing and selling homes to property management and investment guidance. This factor guarantees continuity.
Thirdly, Choose a company that uses cutting-edge platforms and solutions to improve client experiences and optimize business operations. Technology-driven companies can save you time and effort by providing virtual tours, sophisticated property search tools, and easy online transactions. With the incorporation of cutting-edge technologies in the current digital era, the real estate sector is growing quickly. Don't go for the ones lagging behind.

Another important thing to check is the communication.
When working with a real estate company, clear and open communication is essential. Look for a company that emphasizes quick and accurate communication and keeps you updated at every turn. They ought to be receptive to your questions and give you honest, accurate predictions about your real estate objectives.

Lastly, any real estate business should have a client-centered philosophy at its core. Choose a company that prioritizes meeting your demands over all other considerations. The greatest real estate companies go above and beyond to comprehend your particular needs and then customize their services to fit your individual objectives. Choose a company that offers individualized solutions whether you are a first-time buyer, an experienced investor, or a homeowner looking to sell.
To wrap up,
Keep in mind that selecting a trustworthy and knowledgeable real estate company will not only guarantee a successful and smooth transaction, but will also provide you piece of mind during the procedure. And we are more than proud to tell you that all these characteristics and more are embodied by Riel Homes. Our skilled team of real estate experts are committed to supporting your real estate objectives with the utmost professionalism and integrity.
Get in touch with us right away to see the difference!