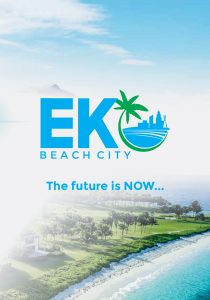 Eko Beach City 
Why invest in EKO BEACH CITY?
Eko Beach City is the serenity you've always dreamed of. The optimal zone where you get to experience luxury living while surrounded by nature. Interspersed with over 10,000 trees of about 50 different species, this green paradise overlooks the seashore and lake creating an environment that makes you instantly relax and enjoy the beauty of life. Its breathtaking views and natural landscapes make it the perfect place to live, work and unwind.
Eko Beach City is the convergence of technology, commerce, stunning architectural design, and soothing greenery—an ideal community for modern-day executives. It features top-of-the-line amenities, such as a technology hub for work, a mini-golf course, and a leisure city to make it easy for you to enjoy a great work-life balance. This futuristic city is surrounded by notable business projects such as the Free Trade Zone, Lekki Deep Seaport, Dangote Fertilizer Plant, Dangote Oil Refinery, and a coastal road network. When next you're considering the right relaxation spot to unwind, spend your vacation, or simply hold out with pals and loved ones, imagine the therapeutic, scenic, and delightful waterfront that is Eko Beach city. Experience nature at its finest; come live out your dreams at Eko Beach City—the place where comfort meets luxury.
THE AQUA EXPERIENCE
Lake view
Let us take you on a lakeside journey at Eko Beach City; A place where you can feel the calmness of the lake, experience animals in their natural habitat, and relish beautiful memories.
Beach view
Enjoy the waves and picturesque seaside view. Wake up feeling invigorated and end the day watching the sunset fall before you.
Infinity swimming pool
Immerse yourself and dive into our luxurious Infinity swimming pool. Treat yourself to an amazing pool experience at Eko Beach city.
WELLNESS
Green Life
An environment that makes you feel at ease and brings you closer to a healthy and peaceful lifestyle. Embrace the relaxing benefits of being surrounded by nature, in a city Dotted with over 10,000 trees. Enjoy mother nature's gift at Eko Beach City.
SPA
Spa Day is a happy day. Experience true relaxation and get rid of stress with the quality service at Eko Beach City Spa
GYM
Get Your Motivation on. Working out is better when you have a gym buddy. At Eko Beach city, we can't wait to welcome you and get you started on your fitness journey.
Mindfulness and Meditation
Everything is created twice, first in the mind and then in reality. Eko beach city provides the perfect environment to get clarity and bring your ideas to life!
STAY ALIVE
A walk in the City Park
Explore the beauty of the natural world around you. Get out into nature; take a stroll, jog, read a book, and capture your memories in the Eko Beach City Park.
Go Golfing
The perfectly manicured and lush greenery mini-golf course makes it inviting and captivating to play on. Let's treat you to the most enjoyable golfing experience.
Let's play CHESS
Exercise your mind and stay mentally alert with the age-long traditional game of Kings and Queens on a checkered box.
Technology-driven city
Imagine a workspace designed for you with an uninterrupted power supply and internet access to bring out the best of your ideas. The tech hub is home to a rising community of savvy technopreneurs, nestled in the beauty of Eko Beach city.