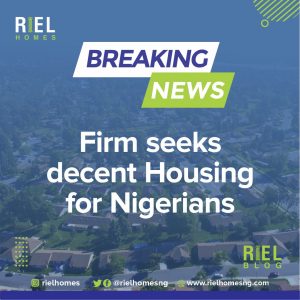 Firm seeks decent Housing for Nigerians – Riel Homes
A real estate Mogul & CEO Riel Homes & Investment Ltd, Kolade Adepoju has said decent and affordable housing for nigerians is Key.
He also disclosed the firm is really keen on solving housing deficit that an average nigerians may face.  In the Verge of solving housing deficit & decency in Nigeria.
Riel Homes had made available one of the best payment plan for an average nigerian who cant afford to put in a whole lot at once in one of their estate located at Epe, Lagos.  The Estate with premium facilities will make living more comfortable and decent to her habitants.
"We are keen to bring decent, smart living and affordable housing to nigerians and we won't back down until we get it done"

"We may not be where we want to be but we are moving in a fast pace and continue to deliver until roofs over head are no more a problem to nigerians"
He said;
In benefitting from the payment plan laid down by the firm, you can make enquries by clicking here