Building Future with Real Estate.
As Resolved, Real Estate should be liveable and creating suitable habits for the rich and the well informed, culturally vibrant existence.
And real estate should be affordable, with housing, transportation and essential services available to all. The provision of fair access to quality space to live and do business is essential to the overall health of society. Affordability must comprise both financial access (affordable rents, low barriers to home ownership) and access to the appropriate standard of assets in terms of space, health, location and access to basic services.
What are the housing market predictions for 2022, 2023, 2024, and 2025? This appears to be a frequently asked question. Everybody is talking about housing, but how is the market doing? Is the housing market ascending or is it on the decline? If you're wondering how the housing market will fare over the next twelve months, especially if you're an investor, there's some good news for you.
In light of what real estate professionals are forecasting, these are some educated predictions about what the future of the United States housing market will look like. Despite these early signs of a slowing market, it remains as hot as ever for homebuyers, with new records set for home-selling speeds and price increases.
Prices are rising due to a mismatch between supply and demand, but this is not a housing bubble. Many experts predicted that the pandemic would cause a housing crash on par with the Great Depression. That, however, is not going to happen. The market is in far better shape today than it was a decade ago. The housing industry has had a boom last year, with the largest annual gain in single-family house values and rentals, historically low foreclosure rates, and the highest number of home sales in 15 years.
Putting for Example, Our Land at ilara Epe (Riel Court) 100sqm was NGN141,000 and as at april 2022. It went up to NGN300,000 about 100% ROI in just 4months.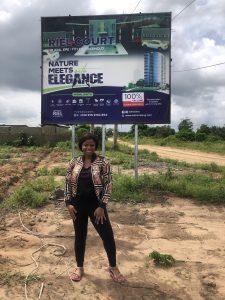 This should sound as a predictable reason and future of real Estate. Will you like to build your personal Future with Real Estate and stay stable in next few years to come. Then Invest Now and Reap Later. You can send a DM to book for our land inspection every thursdays and Saturdays a week…..