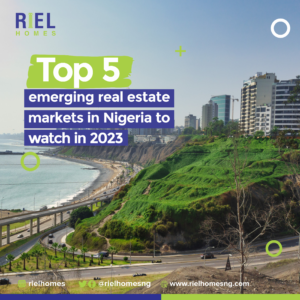 Nigeria's real estate industry has witnessed steady growth over the years, driven by the country's growing population and increasing demand for housing. As the country continues to evolve, several emerging real estate markets are gaining traction and showing strong potential for growth in the coming years. Here are the top 5 emerging real estate markets in Nigeria to watch in 2023:
1. Lagos: Lagos has one of the highest property value appreciation rates in Nigeria. Real estate investors in Lagos have witnessed significant capital gains over the years, and this trend is expected to continue as the city continues to grow and expand.
2. Abuja: As Nigeria's capital city, Abuja is a significant commercial and administrative center and has seen substantial real estate development over the past few years. With its growing population and demand for quality housing, Abuja's real estate market is poised for continued growth in 2023.
RIEL COURT STILL SELLING FAST!!!!!!!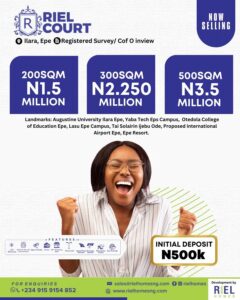 BUY NOW
3. Ogun State: Ogun State has experienced significant growth in recent years, and the state government's focus on infrastructure development has attracted real estate investment. With proximity to Lagos and a growing population, Ogun State's real estate market is set to grow in 2023.
4. Ibadan: Ibadan, the capital of Oyo State, is one of Nigeria's largest cities and a significant commercial center. The city has seen an influx of real estate investment, and its growing population and expanding economy make it an attractive emerging market to watch in 2023.
You can also read about the impact of new lagos tenancy law on landlords and tenants:
The impact of new lagos tenancy law on landlords & tenants || Riel Homes
5. Port Harcourt: Port Harcourt, the capital of Rivers State, is a major oil and gas hub and a growing commercial center. With a significant demand for housing and commercial real estate, Port Harcourt's real estate market is poised for growth in 2023.
Please share, comment, suggest and like.